Opening up Food Hampers
After more than four months of construction and operating out of two temporary locations, the Emergency Food Hamper program is back under one roof at its newly renovated 807 Guelph St. site in Kitchener.
The move is the culmination of our dream to change the food distribution centre from the former print shop we moved into in almost 25 years ago to a community space that embodies our values – compassion, dignity, inclusion, justice and hope.
When we moved into the location in 1992, the building was a significant improvement over operating out of the Charles Street Men's Shelter. However, as community needs grew and our understanding of what it means to serve the community evolved, we realized it no longer reflected our vision of a strong community where all can belong and thrive.
The building was simply stretched to its limits. In 2015, the program served up over 28,000 food hampers compared to only 4,173 in 1985. During days of high demand, people in need of food would line up out the door in all kinds of weather. Staff and volunteers sorting food and packing hampers were working shoulder to shoulder. As hard as we tried, the constraints for the building were making it hard to live up to our values, particularly when it came to the people we serve.
It was time to redevelop the site. After two years of planning, construction started in late August and we moved back in on December 8, 2016.
With a 20-foot extension to the front, the addition of large windows and a wood-beam portico, the building has taken on the look of a country market. We've created a more people-friendly place for those in need to get help.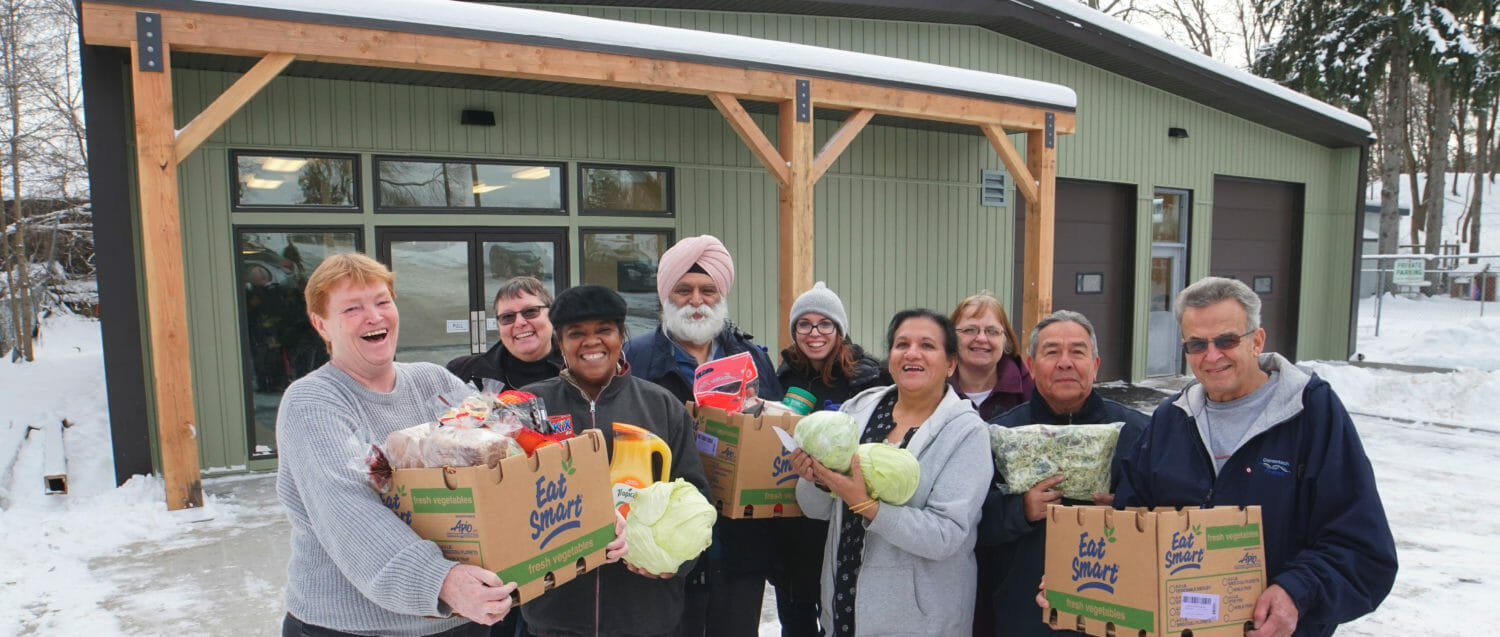 Along with the appealing look come some essential upgrades:
The enlarged reception area and redesigned administration area gives those seeking help greater dignity and privacy while they complete their request.
We can now offer people opportunities to select foods that suit their tastes and needs.
Additional space for receiving, sorting and storing food as well as for packing hampers makes for a more comfortable, safe workplace for staff and volunteers.
The enlarged, graded and paved parking lot, complete with curbs and a sidewalk, makes it safer and more efficient for everyone to access the site.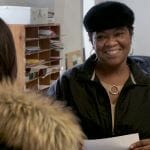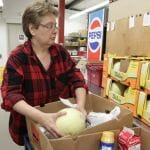 Volunteers and staff who had been working at the temporary locations since July 11 returned to the site Dec. 8 with handshakes, hugs … and "I can't believe it."
During construction, half of the staff and volunteer team received, sorted and stored food donations in the Food Bank of Waterloo Region warehouse on Alpine Drive in Kitchener. The other half distributed hampers from a site next door to 807 Guelph St., supplied by the Knights of Columbus. Tents provided shelter from the elements, and food that was shipped in daily was stored in mobile coolers and freezers. With the approach of cold weather and the threat of snow ever present, the return home was a welcome event for these workers.
Since 1958 House of Friendship's Emergency Food Hamper program has been the go-to source for direct emergency food assistance in Kitchener and Waterloo. On average, 120 families rely on the program each weekday to help them put food on the table while they struggle to make ends meet — their child's school lunch, the next family meal, a packed lunch for work or diet-appropriate food for ailing family members.
During the planning and implementation of the project, we've had many opportunities to reflect on the web of support that exists for our work in the community.  However, two organizations were fundamental to this project – our neighbours, the Knights of Columbus, who generously let us use their property adjacent to our warehouse; and the Food Bank of Waterloo Region, which provided us the use of its warehouse along with the support of its talented staff.
Our volunteers were indispensable in making this happen. Routines were disrupted, locations changed and some folks worked outdoors through all kinds of weather to make sure the community could continue to access the food assistance it needed. We thank each and every one for their gift of dedication and hard work.
When we brought our vision of a $750,000 renovation project to our supporters, they responded with generosity. Together we raised the required funds and now the success of Opening Up Food Hampers belongs to everyone who contributed. In particular we would like to thank the Ontario Trillium Foundation for its $150,000 contribution.
The finishing touches at 807 Guelph St. will include signage, inspiring art to tell the story of the 50+ year Emergency Food Hamper journey, and donor recognition where we will thank all those who made our dream a reality.