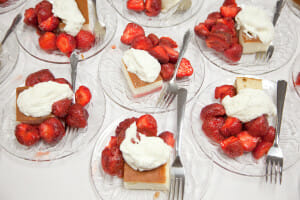 Each June, House of Friendship stakeholders, friends and community gather to report and reflect on the past year, and to look ahead.
Upon arrival, guests receive a copy of the Annual Report, complete with Audited Financial Statements and a Budget.  All are reviewed during a brief Business Meeting, during which the Board of Directors is elected.
The business meeting is followed by a topical or entertaining short program. A highlight includes The Buhr Legacy of Friendship, which is given in recognition annually by House of Friendship's Board of Directors to those who espouse the values of House of Friendship and who have made a significant contribution to both House of Friendship and our community. The evening concludes with a crowd-pleasing Strawberry Social and lots of fellowship.
To learn more, contact the Development Director at 519-742-8327 x 122