Welcome to House of Friendship
Thank you for visiting and taking the time to get to know House of Friendship. We dream of a healthy community where all can belong and thrive. To fulfill this vision, we promise to strengthen people and communities daily by being there when needed, speaking up, and working together.
This is a mission of service that we share with many in our community (churches and faith groups, agencies, government, businesses, groups, and individuals of all ages) based on a common ground of core values: compassion, inclusion, justice, dignity, and hope.
Together, we offer help and hope to thousands of people across Waterloo Region who are living on low income and/or in need:
If you want to build community, and you support House of Friendship's mission, vision and values, I invite you to contact us and get involved.  There's always room at the table for more!

John Neufeld, Executive Director
JohnN@houseoffriendship.org
519-742-8327 x123
Board of Directors
House of Friendship relies on a volunteer Board of Directors made up of nine community members to oversee the vision and mission of the agency.  With their guidance, staff and volunteers serve our community. At the same time, the community provides ongoing input and feedback on local needs and services that staff shares with the Board of Directors to ensure House of Friendship's vision, mission and services remain relevant and vital.
"Those of us who serve on the Board of Directors know how vital House of Friendship is to our community. It is easy for me to answer why I became involved here.  This is an organization that has integrity.  As the saying goes, the people who work here 'walk the talk'.  Over more than 75 years of active and compassionate community engagement, the 'House' has remained true to its community vision.  It is a place where dedicated staff and volunteers daily extend their hand of friendship; where innovative programming meets new challenges, and where lives are changed for the better." ~ Mary Friesen, President
more
Mary Friesen
President
Devon Krainer
Addiction Services Committee Chair
Keith Cressman
Treasurer, Finance Committee Chair
Dave Snyder
Property Committee Chair
Elizabeth Payne
Development Committee Chair
Sharon Feldmann
Housing Services Committee Chair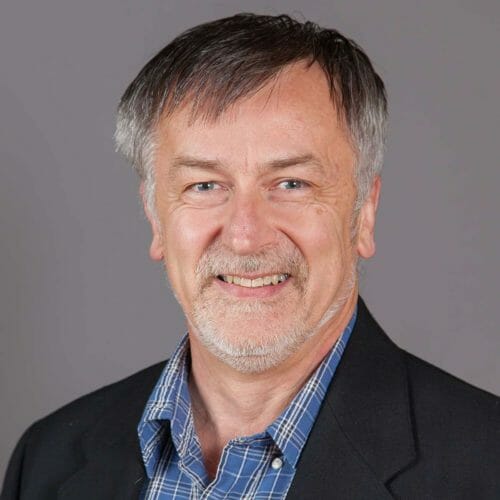 Art Dyck
Community Services Committee Chair
Grace Sudden
Vice President, Human Resources Committee Chair
Buhr Legacy of Friendship
The Buhr Legacy of Friendship recipient is selected annually by House of Friendship's Board of Directors. It recognizes those who espouse the values of House of Friendship and who have made a significant contribution to both House of Friendship and our community. The recognition (a glass engraving) is given at the Annual Meeting.
more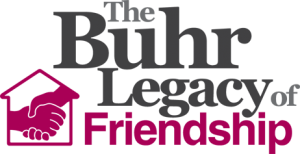 The Buhr Legacy of Friendship is named in honour of Martin Buhr (previous Executive Director of House of Friendship), Pauline Buhr, and their family, who epitomize the values, service, and legacy of friendship to which House of Friendship subscribes. This is a small humble step by the Board of Directors to recognize and honour the significant contributions that so many have made throughout House of Friendship's service to our community.
Past Recipients
2017 – To All Those Walking the Road to Recovery from Addiction
This year's Buhr Legacy of Friendship honours all of the individuals who so courageously walk the road to recovery from addiction. It is a difficult journey, a journey for the brave. Persevering through stigma, trauma and pain, individuals in recovery can go on to lead healthier and more productive lives, as vital contributors to a healthy community where all can Belong and Thrive. It is our hope that each individual who seeks addiction treatment receives a compassionate response that honours their dignity and guides them towards the hope that lies before them. These values are central to the work of House of Friendship (HOF).
In HOF's 78th year of service to this community, we celebrate Steve, Damien, Greg and JP for their courage to fight their addiction and for their willingness to share their recovery journey with our community. By doing so, they are reducing the stigma around addiction, and are allowing healing conversations to unfold among families, friends and communities. To each of the more than 600 individuals who seek addiction treatment from HOF each year, we applaud your bravery!
2016 – Neighbourhood and Community Associations 
As we head into House of Friendship's (HOF) 77th year of service to our community, we acknowledge and honour that healthy communities are built when everyone can belong and thrive.  This is key to HOF's vision.  Neighbourhoods are central to an individual's and families' sense of belonging and ability to thrive.  Our neighbourhoods shape us and we shape them by contributing to each other's lives.  It is our hope that everyone in our Region can be part of a neighbourhood where diversity is celebrated, and individuals feel connected, included, safe, and engaged.  Healthy and accessible neighbourhoods build belonging, community and resilience. In our Region we are fortunate to have over 60 community associations that strengthen our neighbourhoods.  We would like to honour the enormous contribution that these associations make to building healthy neighbourhoods in our community and present The Buhr Legacy of Friendship to Sunnydale Community Association and the Kingsdale Neighbourhood Association. We have a long standing relationship with these Associations and both represent the importance of neighbourhoods at the heart of belonging and thriving.
2015 – House of Friendship past-Presidents
The 2015 Buhr Legacy of Friendship was shared amongst all House of Friendship (HOF) past-Presidents in honour of the dedication and service of HOF Board Members through the years.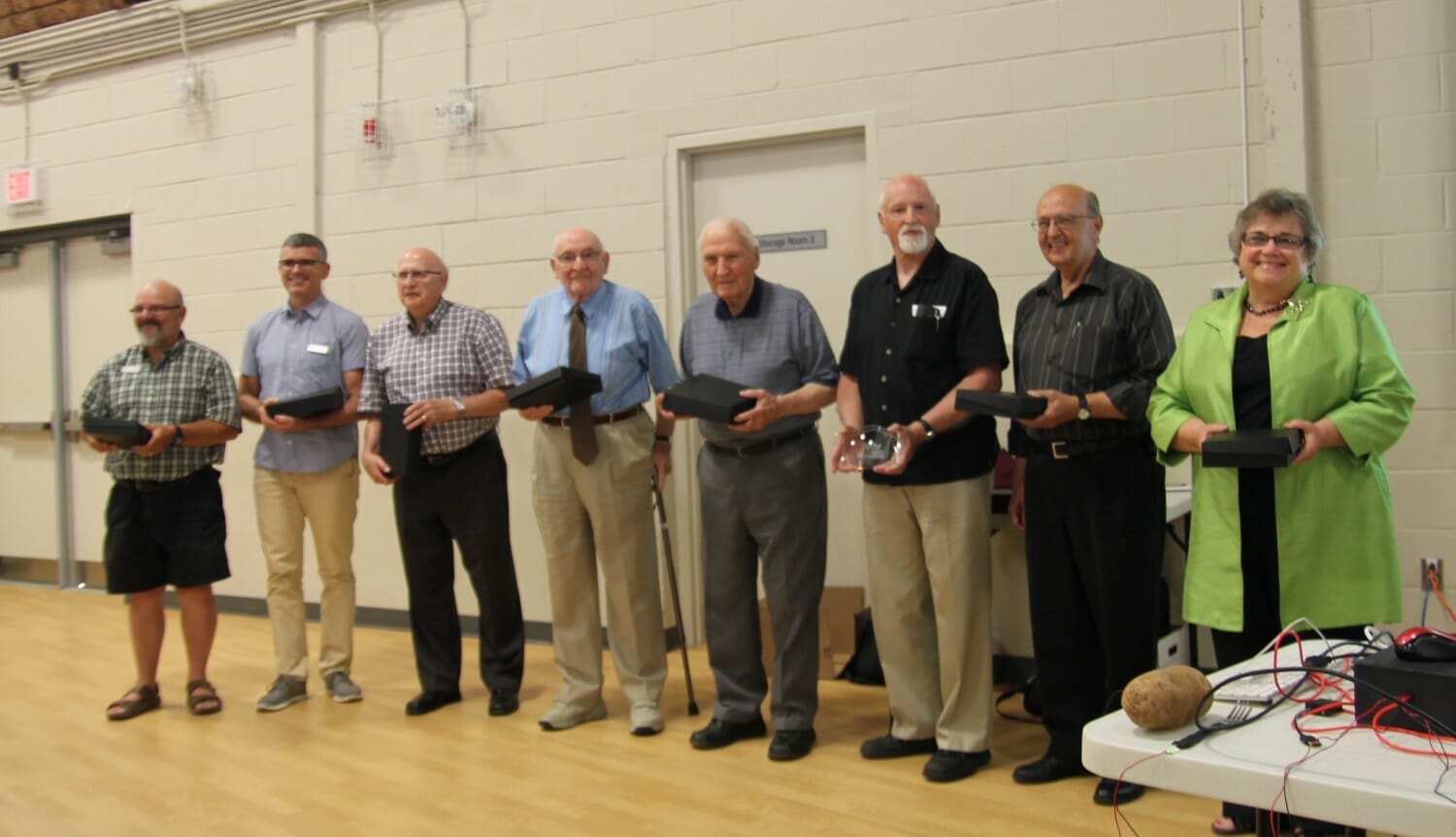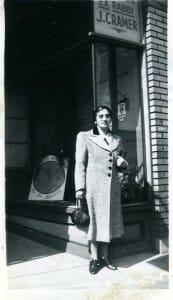 2014 – Ilda Bauman
The 2014 Buhr Legacy of Friendship was given posthumously to Ilda Bauman, an individual who represents the 'unsung heroes' who with great perseverance and humility served House of Friendship and our community during its first 75 years. Two of Ilda's nieces, Sharon Reimer and Mary Lynn Dedels, and a nephew, Ken Bauman, accepted The Buhr Legacy of Friendship on Ilda Bauman's behalf.
Ilda worked at House of Friendship from 1939 to October 1949 as a co-worker of Joseph Cramer, the founding Executive Director. She made hundreds of home and hospital visits, distributing books and thousands of pieces of literature in many languages, and helping with numerous worship services in the rented room. She also cooked meals for clients from donated food in a small adjoining kitchen. Ilda died in 1974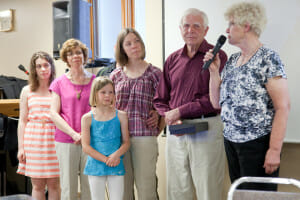 2013 -The Herrle Family
Three generations of the Herrle family of Herrle's Country Farm Market were selected as the 2013 recipient of The Buhr Legacy of Friendship for their ongoing friendship and service to House of Friendship's emergency food assistance efforts. "Part of our calling is to give back. You just do it," explained Trevor Herrle.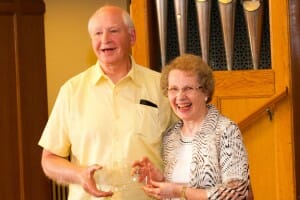 2012 – Gerry and Sandra Vandeworp
At its 73rd Annual Meeting, House of Friendship announced Gerry and Sandra Vandeworp as the recipients of the inaugural The Buhr Legacy of Friendship. Gerry, with Sandra at his side, served as Executive Director at House of Friendship, 1961 -1978, with devotion and was a respected champion of social justice; he was instrumental in the establishment of House of Friendship's addiction treatment services and in transitioning House of Friendship into a social service agency.